Purpose
Leadership makes things happen. It identifies opportunities, shapes opinions, and meets challenges. Meeting these complex challenges requires a vigorous, informed group of leaders that represents all segments of our community.
Leadership Kitsap was originally organized in 1993 by the Bremerton Area chamber of Commerce in conjunction with all Kitsap chambers, and United Way of Kitsap County to reinforce the concept of informed and committed civic volunteerism. Its purpose is to provide focus for an effective group of alumni who respond to challenges facing our dynamic and evolving region.
Leadership Kitsap's goal is to build a new and continuing source of fine leaders. The program brings together people from many professional fields (public and private), finance, manufacturing, construction, education, law, government, military, media, health care, utilities, retail and human services. It creates a structured system of communications among leaders from different sectors and constituencies, and facilitates access between the existing and the merging leadership of the community. Leadership Kitsap produces colleagues who can and will help each other get things done.
Above all, Leadership Kitsap promotes a breadth of vision and an understanding of the complexity of the Kitsap area and its public policy issues. It sharpens the leadership skills necessary to motivate and engage others in a collaborative effort to meet the challenges ahead.
Participants are selected annually through a competitive process. Leadership Kitsap's goal is a cross section of individuals representing diverse interests, backgrounds and cultural experiences. The program lasts ten months and consists of two leadership retreats and eight forums centered on major public policy challenges. Small-group community projects to create change are an integral part of the curriculum.
Class of 2017 
Kay Ash, Olympic College
Alanna August, PSNS & IMF
Sanjay Bhatt, Kitsap Transit
Martin Cockroft, Olympic College
Laurie Davis, PSNS & IMF
Robert Fisher, NUWC – Keyport
Tracy Flood, Olympic College Foundation
Beverly Frye,WA State Dental Hygiene Association's local component of Kitsap Peninsula, LK Hanten-Berger Scholarship
Renee Greenfield, Marion Forsman-Boushie Early Learning Center, Suquamish Tribe
Jeff Horn, Bainbridge Island Police Department
Leigh Kamasz, American Red Cross
Kwang Kye, Kitsap Regional Library
Lisa McDonald, Port Gamble S'Klallam Tribe
Jeffrey Menge, Kitsap County Sheriff's Department
Rich Miller, Navy Region Northwest
Jorge Nolasco, Bremerton Valley Scottish Rite, LK Hanten-Berger Scholarship
Sally Oranski, Port Madison Enterprises
Holly Paterson, Housing Kitsap, LK Hanten-Berger Scholarship
James Ramponi, CHI Franciscan Health – Harrison Medical Center
Jon Rauch, BKAT / City of Bremerton
Carli Schmitz, Kitsap Housing Coalition, LK Hanten-Berger Scholarship
Shaun Willis, Navy Region Northwest

Leadership Kitsap follows the Positive Leadership curriculum, designed to help identify, expand and enhance seven leadership capacities. It is a clear and useful approach to leadership that can apply to established and emerging leaders in business, nonprofits, community organizations and municipal government, and it has a strong personal development component.
Positive Leadership recognizes seven core capacities: authenticity, purpose, reason, advocacy, community building, resilience, and gratitude. Developing and strengthening these leadership capacities leads to increasing leadership potential.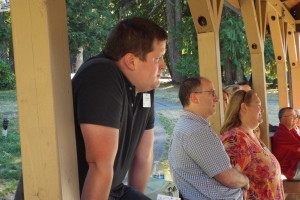 An Opening Retreat in September and a Leadership Development Day in October focus on personal and public leadership skills. Individual leadership styles are analyzed, as well as group process skills of consensus building and conflict resolution. These structured retreats link substantive community issues with more abstract concepts of leadership.
Challenge Days occur once a month. Each day examines a key community issue such as governance, economics, education, healthy communities, state government, public safety, arts & recreation, and environment & planning. Presenters with differing perspectives and leadership involvement in the community appear each month.
Community Projects fill part of the ten-month period. Class members divide into teams to identify a community need and collaborate with existing community organizations in researching the issue, acquiring the necessary resources, and implementing creative approaches to the problems and opportunities facing our region. View Past Projects List
2016 Team Service Projects
Team We-Ahm: Port Gamble S'Klallam Tribe Cultural Storyboards. To keep the stories of the Port Gamble S'Klallam Tribe alive and to ensure they are passed onto future generations, the Tribe has approved the incorporation of art that is representative of their culture into the design of an amphitheater. This space will serve to provide a platform for story sharing and reflection. Team We-Ahm is helping to organize, facilitate and host two gatherings with the community to 1) determine the design for the Storytelling Area of their proposed Amphitheater and 2) unveil the artist's design.
Team Haberdashers: Bay Vista Commons – Haberdashers Boutique.  Team Haberdashers, in partnership with Bay Vista Commons residents' council, are establishing a community "boutique", where residents can obtain their basic need items at little or no cost. Their project focuses on setting up the physical infrastructure for a "boutique" to be maintained by the Bay Vista Commons staff and residents' council. Residents have identified an area measuring 8 ft by 4ft that will be used as the "store front/ boutique." Their primary goal is to set up the physical space and do an initial stocking of basic needs through donations obtained by their leadership Kitsap team.
Team K.I.A.C.: A Community Conversation – Immigrants in Kitsap County. Team KIAC is working with the Kitsap Immigrant Assistance Center to increase community awareness about this essential community resource and the population it serves. Their project will initiate community conversation to promote support and empathy for Kitsap's immigrants, both during our Leadership Kitsap year and beyond. The core of their approach will be storytelling through capturing the stories of local immigrants and distilling them into a short video to share with the community. As a culminating piece of their project, the team will help KIAC plan and host a community conversation event with a premier screening of the film.
P.O.S.T.I.V.E. Port Orchard Substance Intervention Team Invested Vigilant Excited: South Kitsap Substance Abuse Prevention Awareness. Team POSITIVE is collaborating with Whole Child Whole Community, using them as a base to build a larger, focused group from diverse sectors of the South Kitsap community. They are meeting monthly to educate the group on the existing substance abuse prevention coalitions in North Kitsap and Bremerton. They will host an event, May 2016, to inform parents and children in South Kitsap about Substance Abuse Prevention.
Lady Lapidaries: Brilliance Awards Luncheon. Our Girls Empowered through Mentoring and Service (OurGEMS) is a mentorship program, supporting 200 girls, ranging in grade level from 8th through freshman year of college, via partnerships with 4 school districts and 14 schools across Kitsap County. The Brilliance Awards Luncheon will be a first annual event held in May of 2016 in an effort to celebrate all 200 girls in the program, along with one parent or guardian, and school counselors and administrators who have been instrumental in the program's success. The project involves documented planning, coordination, and media outreach with a diverse group of community sponsors and members to establish a process and support for a sustained annual event.
Kitsap Smiles: So That Every Kid in Kitsap Smiles. Team Kitsap Smiles is partnering with non-profit, Lindquist Dental Clinic for Children (LDCC) in providing compassionate and effective dental care to children (ages 0 to 19) in need, with a specific focus on the underserved communities of Hispanic immigrants and low-income housing families … so that every kid in Kitsap smiles. The team is identifying groups in the community historically underserved and most affected by lack of dental services to identify and meet with those community group leaders. They are coordinating with LDCC to promote and put on two Dental Screening Days.
Leadership Class of 2016 is underway. We are now accepting applications for The Class of 2017. Click here for additional information.
The year-long curriculum is designed to help participants acquire both a fuller sense of the critical issues affecting Kitsap County and also the leadership skills necessary to motivate and engage others in collaborative efforts to resolve them.
Selection Criteria
Leadership Kitsap class participants are selected through a competitive screening/interview process conducted by the Board of Directors. A limited number of individuals will be selected based on criteria including the following: commitment to civic involvement in Kitsap County, potential for community leadership, and professional as well as personal achievement.
Time commitment: Full participation by each member of Leadership Kitsap is critical. This includes attendance at:
Orientation  – Late August (2 Hours)
Opening Retreat – 2 Day, 1 overnight at Seabeck Conference Center
Monthly Challenge Days – One Friday/month from 7:45am to 4pm.
October through May.
Personal Presentation – June Challenge Day
Service Projects – to be scheduled by groups
Graduation Celebration – Late June
It is vital that you and your employer understand and honor these commitments. If you are unable to commit to this schedule, please do not apply at this time.
Selection Process – Application is a two-part process: (1) submit an electronic application to the Leadership Kitsap office  and (2) a personal interview.
Tuition – Tuition for the current curriculum year is $1950. At least $250 must be paid by the participant. The balance is usually paid by the participant's employer or sponsoring organization. Partial scholarships are available. There are no refunds.
Non – Discrimination – Leadership Kitsap does not discriminate on the basis of race, religion, sex, national origin, sexual orientation, age, or physical ability.
Confidentiality – All applications are handled respectfully and with appropriate confidentiality.
Application Deadline – April 1, 2017.